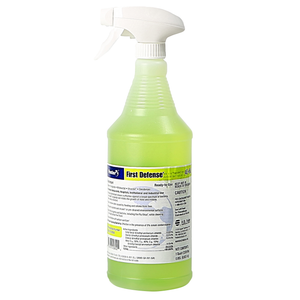 Foster 40-80 First Defense Disinfectant 6/32oz Bottle
Foster First Defense Disinfectant (40-80) is a convenient, ready-to-use EPA Registered formulation that kills odor-causing bacteria and inhibits the growth of mold and mildew.
This all-in-one "disinfectant, cleaner, fungicide, mildewstat, germicide and deodorizer" is designed for use in water damage restoration and for clean-up of mold and microbe impacted porous and non-porous materials. For homes, hospitals, institutions and industrial use.
Foster 40-80 kills household germs and is effective against a broad spectrum of bacteria, including Pseudomonas Aeruginosa (Pseudomonas), Staphylococcus Aureus (Staph), and Streptococcus Pyogenes (Strep), is virucidal*, and inhibits the growth of mold and mildew (fungicidal), including Trichophyton Mentagophytes, when used as directed.
First Defense Disinfectant is effective against odor-causing bacteria and fungi (in water damage restoration situations) on semi-porous and porous materials including carpets, carpet cushion, sub floors, drywall, trim and frame lumber. It helps clean and remove residue resulting from flood and water damage.
May also be used to disinfect washable hard, non-porous surfaces such as tables, floors, walls, countertops, coils and drain pans of air conditioning and refrigeration equipment and heat pumps and hard, non-porous surfaces such as metal, stainless steel, fiberglass (shower stalls and sinks), finished woodwork, vinyl or plastic upholstery, as well as hard non-porous inanimate environmental surfaces found in hospitals, food processing areas, homes, restaurants, hotels, health clubs and spas.
Due to payment limitations on our PFCorders Site, we have created a separate site for you to buy online immediately! Once you have placed your regular order on this site, simply click HERE to head over to Simple Sanitizer for your sanitizer and disinfectant needs.
To contact our Support Team with questions regarding your sanitizer and disinfectant needs, fill out the form below: